LEASH TRAINING YOUR DOG SO YOU CAN ENJOY WALKS WITH YOUR BEST FRIEND AGAIN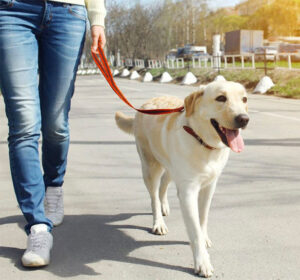 If walking your dog has become a painful, stress inducing chore, we can help! Let our certified dog trainer take your dog for training walks where your pup will learn valuable leash skills so you can start enjoying your dog again.
How Leash Training On Behavior Walks Work:
After an initial consultation to assess your dog's leash skills & behavior, our certified trainer will come to your home 1-2 times per week and take your dog (and you!) on a 30-minute training walk to work on leash manners. You will receive written report cards on your dog's progress after each visit.
For training sessions, the Client shall supply and be equipped with the following items for each dog: a sturdy 6-foot non-retractable leash, a properly fitted flat collar and/or harness, and treats suitable for the pet. 
What's Included:
1-2 behavior walk sessions per week
Progress reports detailing your dog's performance after every session
Lifetime phone and email support for the issues we've trained
Training kit with clicker, treat pouch and treats to get you started
Price:
Initial Consultation: $100
Beginner Package (1hr & 5 half-hour sessions) $430 | Full Package (1hr & 10 half-hour sessions): $780
How to Get Started:
Ready to give your shoulders & patience a break? To get started with behavior walks, we require an initial consultation to assess your dog's leash skills & get us started on the right foot. To schedule your initial consultation, email us at [email protected], call us at 484-602-4054, or fill out our contact form here
(Additional discounts not available on Behavior Walks)
Next Steps...
If you're ready to start your journey to a better behaved dog email us now!